Which 'Barbie' clothes from Bloomingdale's are best?
The "Barbie" movie is right around the corner, opening July 21. It's been a long time coming, and anticipation for the movie is getting feverish with it being so close. To both further promote the movie and capitalize on its excitement, Bloomingdale's and Warner Bros. have partnered to launch a line of clothing, accessories and toys inspired by the movie. It's currently only available online, but you can also find some of the items in select stores beginning July 13.
Do you want to dress like Barbie? You're in luck.
It doesn't matter what your personal sense of style is. In the 64 years since her launch on March 9, 1959, Barbie, her friends and fellow dolls have donned about every style you can imagine. Even if she hasn't worn your favorite style, custom-made Barbie clothes mean she can be made to represent you.
That said, the Bloomingdale's collection is inspired specifically by the clothes and spirit of Margot Robbie's version of Barbie in the upcoming film. Bloomingdale's in-house brand, Aqua, makes most of the clothes and accessories.
Clothes-wise, you can find various kinds of dresses, jackets, T-shirts, skirts, shorts and pants. Most are in shades of pink, red, white and blue. Accessory-wise, you can find earrings, necklaces and various kinds of bags. Most of them use heart or star imagery and gold-plated metals. You can also find footwear, such as tennis shoes, sandals and inline skates.
If none of the pieces immediately leap out to you as your style, think about how you can make it your style. For example, grab the "Barbie" T-shirt and wear it with shredded jeans for a '90s grunge look. Or, follow the "underwear as outerwear" trend by wearing the cropped blazer over lingerie. Everyone is allowed to have their own ideal version of Barbie, including you. Don't let anyone tell you differently.
A special event
A one-day-only special event is happening on July 22 at Bloomingdale's 59th Street store in New York City. The goal is to make you feel like you're in Barbie's world. To achieve that, Bloomingdale's said there will be "Barbie-Land-themed window displays, hair salon pampering and fun, fun, fun experiences."
What's the 'Barbie' movie about?
The exact plot of "Barbie" is still unknown, but there are a few known pieces. The general idea is that Margot Robbie's version of Barbie and Ryan Gosling's version of Ken somehow leave the fictional world of Barbie Land and make it to our real world. What they do there is still a mystery, but it does involve them interacting with Mattel's CEO, played by Will Ferrell.
What to watch while you wait for 'Barbie'
If you're too excited about the "Barbie" movie and need something to tide you over, check out some films made by "Barbie's" writers Greta Gerwig, who also directs the film, and Noah Baumbach. Doing so can also give you a good idea of the style and tone the film will likely have. "Lady Bird" is a great example. Or, you could get your Margot Robbie or Ryan Gosling fix by watching any of the countless movies they've starred in. "I, Tonya" and "Crazy, Stupid, Love" are good examples.
Best 'Barbie' clothes and accessories from Bloomingdale's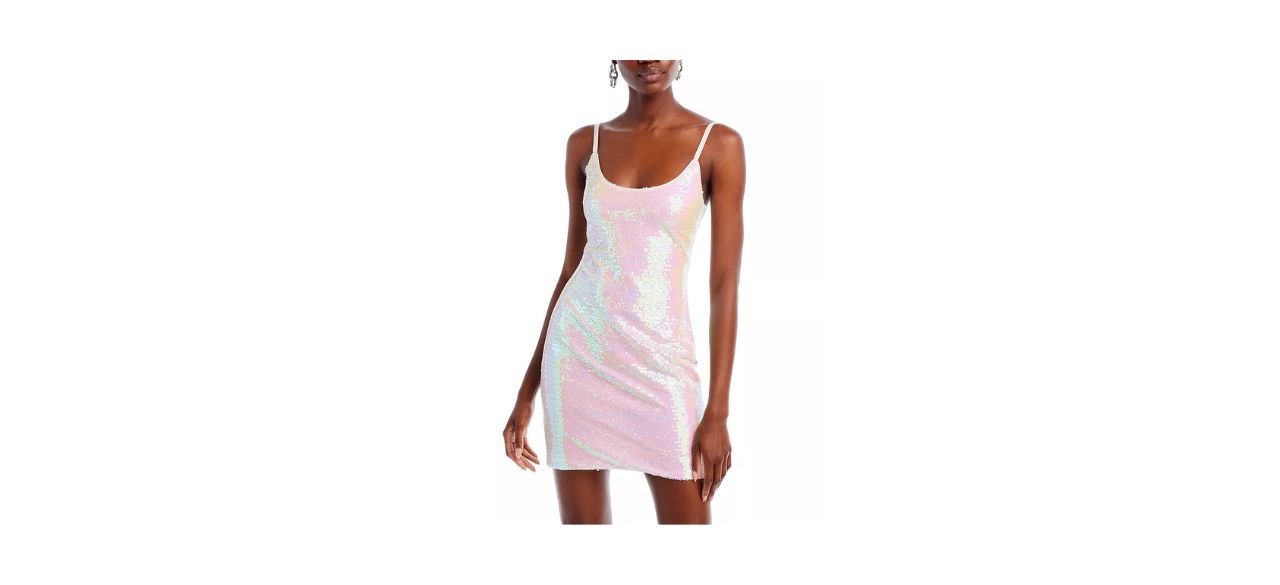 "Barbie" The Movie x Aqua Sequined Mini Dress
This sequin-covered mini dress is perfect for a night on the town before or after seeing the movie. Try pairing it with pink accessories and a white jacket.
Sold by Bloomingdale's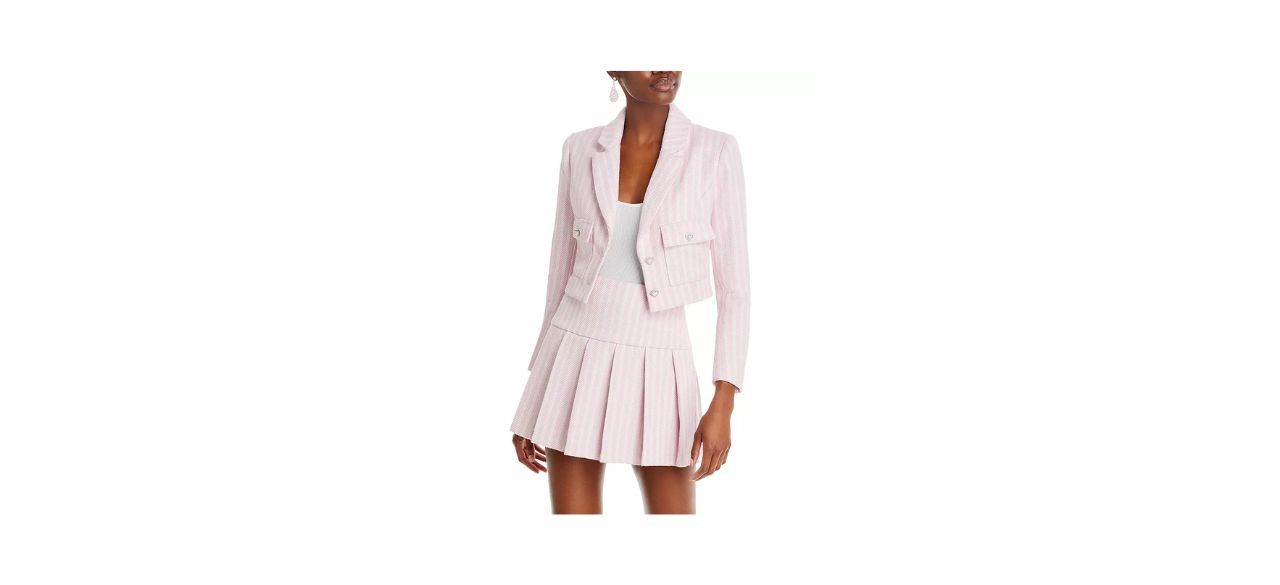 "Barbie" The Movie x Aqua Checked Cropped Blazer
This blazer is an excellent way to spice up an outfit you already have in your closet. Its buttons are adorable hearts made of imitation pearls, giving it a youthful vibe.
Sold by Bloomingdale's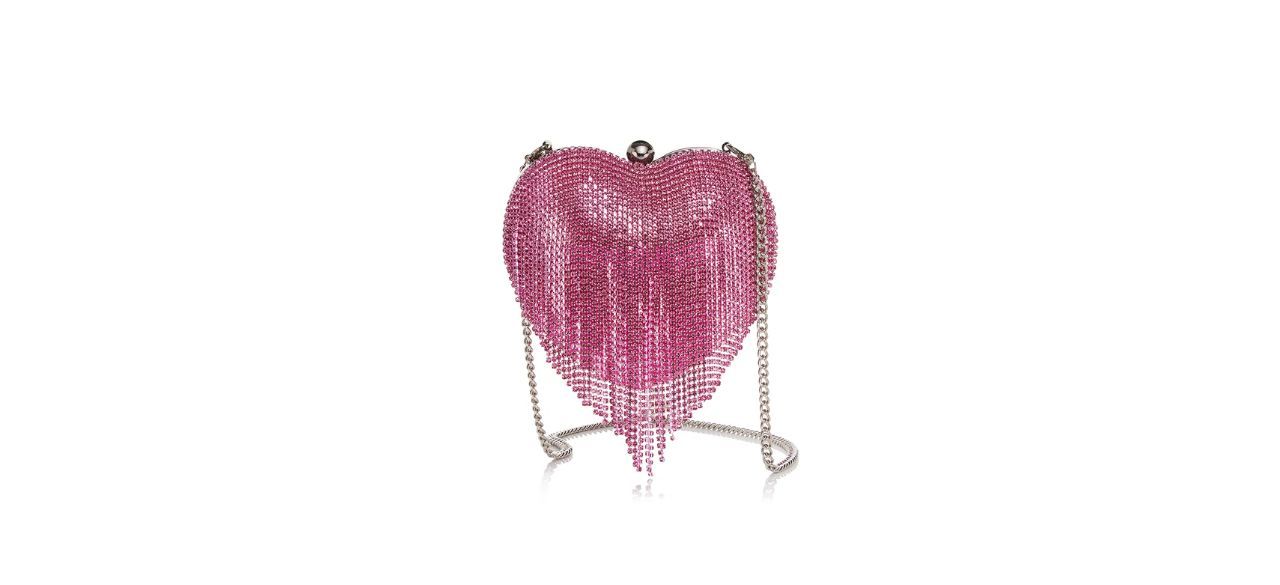 "Barbie" The Movie x Aqua Heart Crystal Mini Crossbody Bag
This glittery bag is a cute way to stash your phone, wallet and keys while out and about. The design plays well on both adults and young girls. It comes in pink or gold.
Sold by Bloomingdale's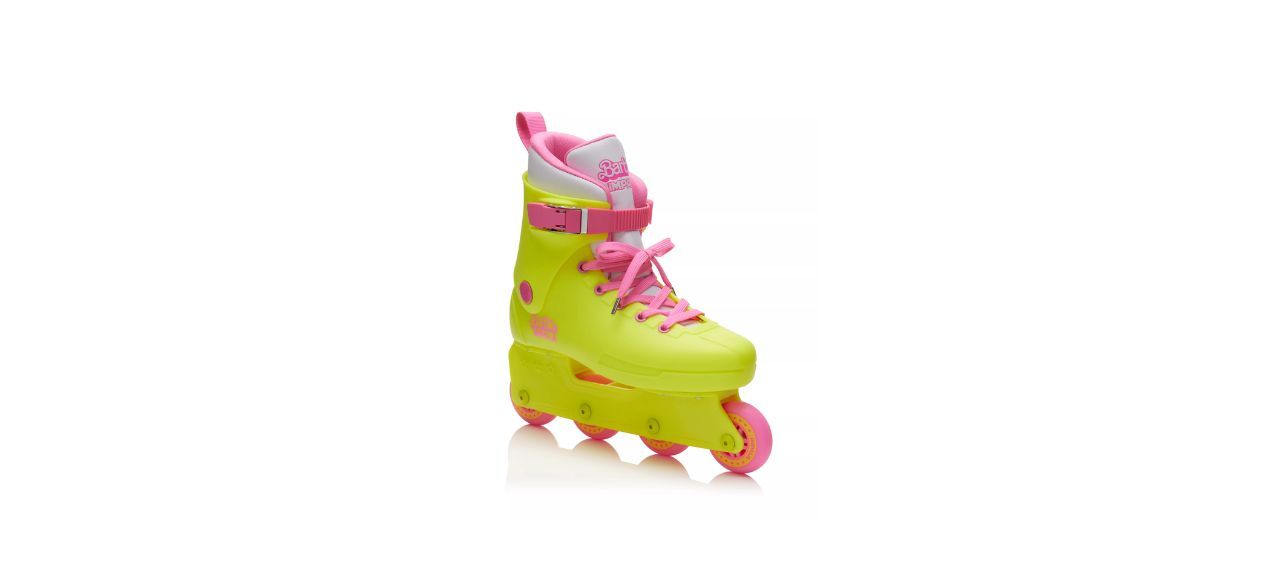 Impala x "Barbie" Lightspeed Inline Skates
These inline skates are ripped straight from the movie, as seen in trailers and set photos. Wear them at your local roller rink to spark envy in everyone there and maybe meet your own Ken or Barbie.
Sold by Bloomingdale's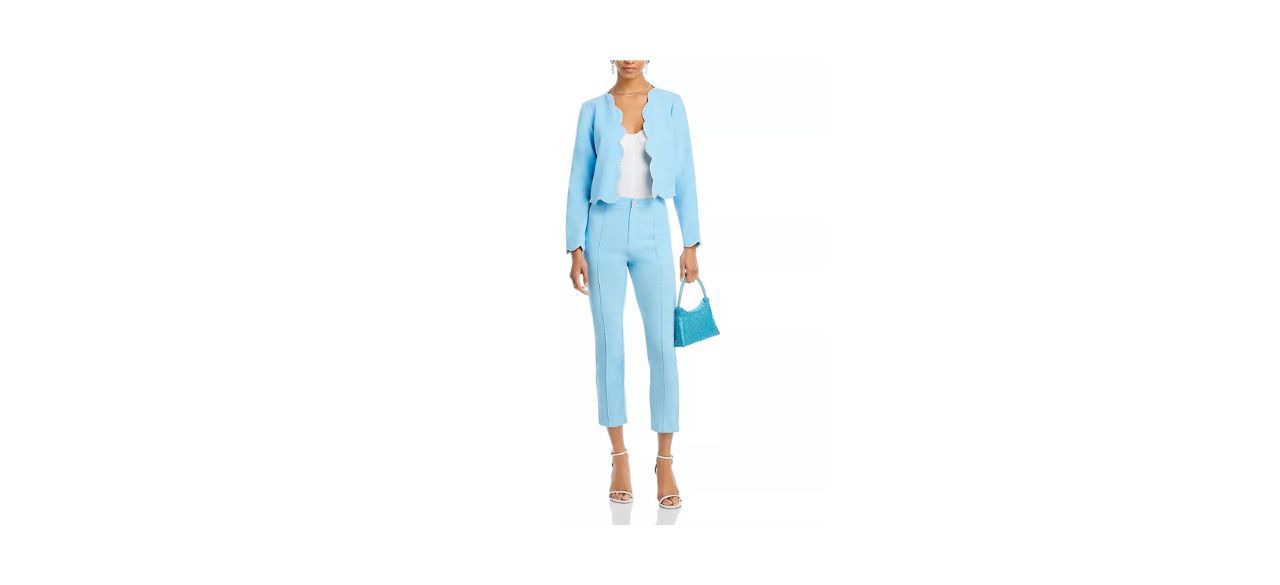 "Barbie" The Movie x Aqua Scalloped Tweed Jacket And Pants
Barbie isn't only a socialite, having endless fun all day, every day. She works too, like you. To celebrate that, wear this jacket and pants combo to your office before catching an evening screening.
Sold by Bloomingdale's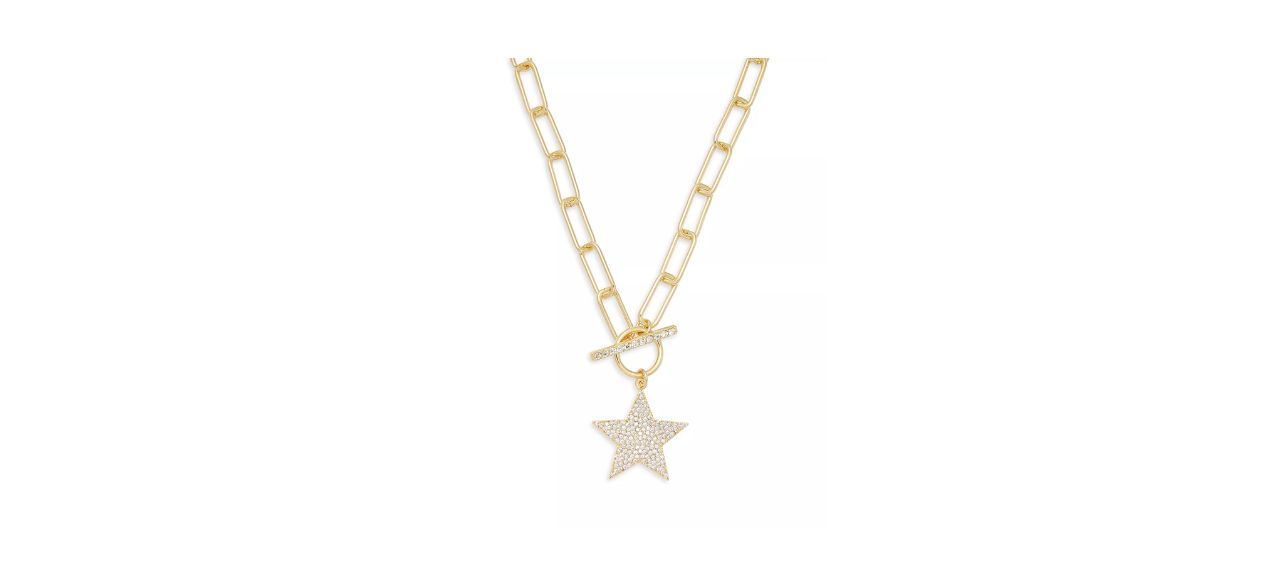 "Barbie" The Movie x Aqua Embellished Star Pendant
This necklace uses 14-karat gold-plated brass and cubic zirconia "diamonds" with a 16-inch chain. It's the perfect way to add some sparkle to an otherwise toned-down outfit. Or, go big and pair it with other bright, sparkly clothes.
Sold by Bloomingdale's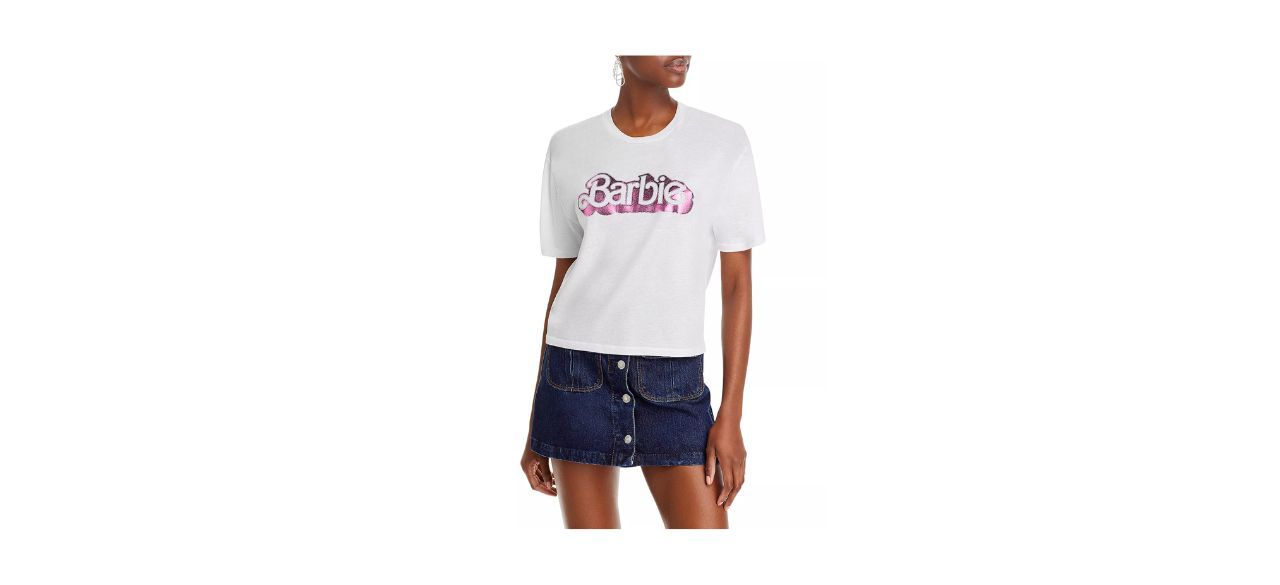 "Barbie" The Movie x Aqua Embellished Graphic Tee
You don't have to be prim and proper to dress like Barbie. Plus, wearing comfortable clothing, such as this T-shirt and a pair of jeans, is more enjoyable for a weekend afternoon screening with friends.
Sold by Bloomingdale's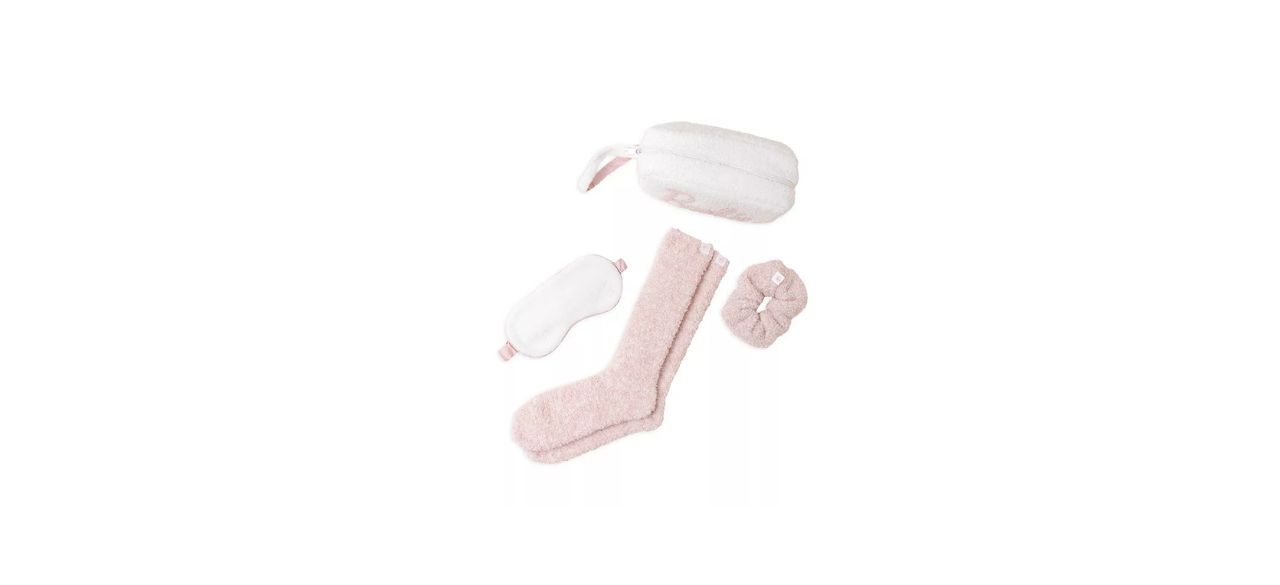 Barefoot Dreams CozyChic Barbie Eyemask, Scrunchie, Sock Set
If you're the type to wait for movies to hit streaming services, this accessory set lets you watch "Barbie" in style once it's available. It doesn't hurt that the bag everything comes in can also be used as a clutch.
Sold by Bloomingdale's
Want to shop the best products at the best prices? Check out Daily Deals from BestReviews.
Sign up here to receive the BestReviews weekly newsletter for useful advice on new products and noteworthy deals.
Jordan C Woika writes for BestReviews. BestReviews has helped millions of consumers simplify their purchasing decisions, saving them time and money.
Copyright 2023 BestReviews, a Nexstar company. All rights reserved.