Welcome to our 2023 future head coaches list, an annual exercise in which we give you an exhaustive list of future candidates. Last year, we had our largest roster ever at a time when there weren't a ton of job openings. Just five teams—the Broncos, Colts, Cardinals, Texans and Panthers—changed coaches last year. Two of those jobs, in Carolina and Denver, went to second-chance candidates with whom we were already intimately familiar.
This was something of a prediction come true by those with knowledge of the coaching carousel's inner workings: Teams were craving experience after the high-profile ouster of Urban Meyer in Jacksonville and the far less divisive (but still disappointing) end to the Matt Rhule tenure in Carolina. Since then, Doug Pederson's steady hand in Jacksonville, I would imagine, has not dissuaded owners from looking heavily at a pool of second-chance head coaches. Our list this year features more than a handful.
The theme for this year, as it pertains to those whose job it is to prepare for hirings and firings is: Watch out. Typically, following a year of low turnover, we see high turnover. One industry insider easily made the case for 10 coaching changes (albeit many depended on teams' realizing their worst-possible scenarios). Another source referred to it as "coachpocalypse." There are a handful of coaches without contract extensions heading into a decisive third year (teams usually extend or cut ties with a coach before the final year of their deals). There are coaches operating under the weight of immense pressure. And there are coaches working for an exceedingly older population of owners who may not tolerate good enough. We have said this about Jerry Jones in Dallas for years, even though Jones has been something of a model for patience. But there are other septuagenarians and octogenarians looking for Super Bowl glory.
I mention this because I know what you're thinking: 36 soon-to-be head coach candidates, 96 future head coach candidates? Why not just list every assistant coach in the NFL? My answer: Let's say the coachpocalypse premonition comes true. Imagine a world with 10 openings, which would mean 10 new head coaches, potentially 10 new defensive coordinators, 10 new offensive coordinators, plus near-miss candidates who will be plugged into pass game/run game coordinator jobs on both sides of the ball or assistant head coach titles. That's a lot of names! Last year's list included, for example, Nick Rallis, who at the time was a 29-year-old linebackers coach in Philadelphia. We didn't expect him to interview for any of the head coach openings last offseason, but fast-forward one year and now he's a defensive coordinator in Arizona. This list similarly features fast-rising assistants who may be a factor in future hiring waves. I'm also being intentionally broad because we've seen some massive curveballs over the previous few years. Jeff Saturday became an interim coach. It's better to be prepared.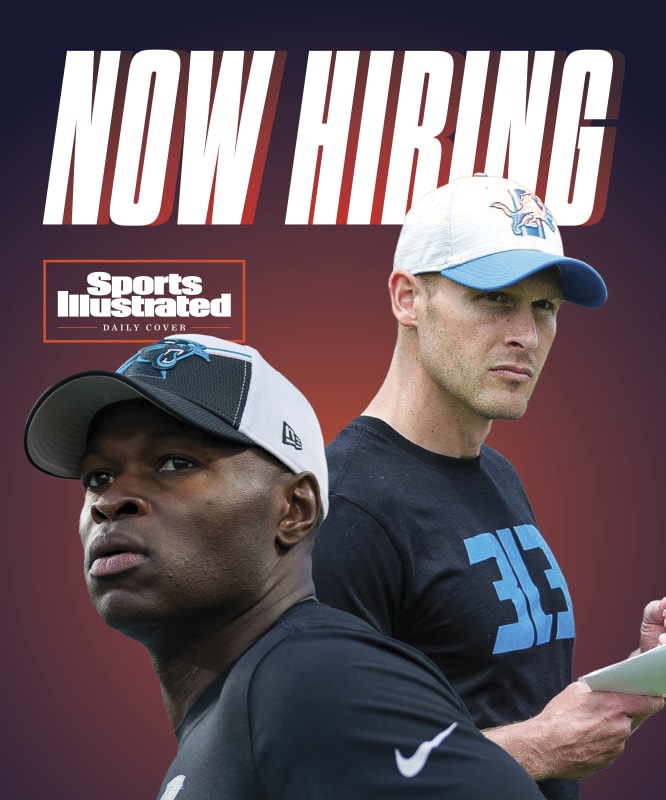 Our goal each year is to try to understand who might be next as an NFL head coach, and who might be coming behind them as a rising coordinator or position coach; the kind of names you'll be hearing about in a few years. While the process is fluid, we don't want to mystify it. Who are the power players recommending? Whom do other coaches like and would, thus, be likely to recommend as well?
We'll break these coaches down into a few categories, though there is no formal ranking outside of two "lock" candidates we'll discuss first. Right now, in September, being the 23rd name on this list is just as valuable as the fifth.
Our "lock" candidates the past few years have included Brian Daboll, Nathaniel Hackett and, last year, Eagles OC Shane Steichen. All three landed top jobs. This year, barring absolute disasters, we see two "lock" candidates who we are absolutely certain will get a job should they want one.
You'll notice there are no current college coaches on the list, even though I do think there could be some NCAA names factoring into the equation. Jim Harbaugh is always a possibility. David Shaw, formerly of Stanford, could be a factor again this year, though his connections to the Denver job in 2022 were by far his strongest. Hot assistants, like Brian Hartline, the former NFL wide receiver and current Ohio State offensive coordinator; Kliff Kingsbury, the former Cardinals head coach and current USC quarterbacks coach and senior offensive analyst; and Sean Lewis, Deion Sanders's offensive coordinator at Colorado, are piquing curiosity. As for Sanders himself ... who knows? That said, it's a long season. We'll loop in our talented and plugged-in college football reporters for a true short list in December that factors in the NCAA folks.
That said, we begin in Detroit and Carolina.
Locks
Ben Johnson, offensive coordinator, Lions
"Anything nice anyone tells you about Ben is [probably] true," says one of Johnson's former coworkers. This sums up the kind of uniform praise Johnson has received from industry types and fellow coaches alike. What separates him from the pack? "He doesn't think he knows anything," the coach says. Another rival coach praised Johnson's ingenuity with Jared Goff and his openness to new ideas. Johnson's communication skills are also noteworthy, as are his smarts. One of his former math teachers tells us Johnson, in an advanced geometry class, would challenge his high school teachers for alternate ways to solve complex proofs. The teacher says it was one of the first times he had to confront a moment when a student was smarter.
Ejiro Evero, defensive coordinator, Panthers
"Ejiro is a star, man. A bona fide future head coach," an NFC coach says. "Impressive" was the first word that came on another text about Evero, whose body of work last year as the defensive coordinator with the Broncos is worth a deep dive. Denver allowed 20 or fewer points in nine games last season, but the way in which he manipulated and transformed his personnel to attack opponents on a week-to-week basis was epic. Evero has an elite coaching apprenticeship résumé, having worked under Jim Harbaugh, Mike McCarthy, Sean McVay and now Frank Reich. His quiet confidence is a respect generator. Evero was among the most sought-after defensive coordinators on the market after a series of head coaching interviews last year with the Colts and Panthers, among other teams.
Offensive coaches who are up next
Frank Smith, offensive coordinator, Dolphins
Smith is a trusted offensive mind in Miami, a place where a lot of the most innovative football thinking and planning is taking place and coaches put up 70 points. There are coaches and people inside the coaching business who love the 42-year-old, who worked with Sean Payton and Jon Gruden in different stops before connecting with Mike McDaniel in Miami. I think all you need to know about Smith is that at each stop throughout his career there has been a player who has lauded him for his interpersonal efforts. We mentioned his work with Darren Waller a year ago. From experience talking to coaches I can say this: He has the mindset that most coaches wish they had the first time they took a big job. Having a conviction about this being a people business—instead of learning it the hard way—makes a big difference.
"Interviewing him was one of the most unique experiences I ever had," says Jeff Voris, the longtime head coach at Butler, who worked with Smith for a handful of seasons and hired him after talking to him at a picnic table. "When [Frank and I started together] we hadn't won a game in two years, an 18-game losing streak. He became my right-hand man, and in four years, we were 11–1, won a championship and he was the offensive coordinator doing the whole thing. I became his assistant coach at some point."
While at Butler, Smith became close with Brad Stevens, the team's rising-star basketball coach who is currently the Celtics' president of basketball operations.
Ken Dorsey, offensive coordinator, Bills
After learning more about Dorsey, the most impressive part of his candidacy is the myriad ways in which he can win on offense. The Bills are one of the most versatile teams in football schematically, and Dorsey, a former quarterback at the University of Miami and with both the 49ers and Browns, has designed a dizzying system for opponents to try to match up against. Dorsey is not tied to one system. The assumption is often that the Bills are a chuck-it offense, but some of Dorsey's best work, according to those familiar with his system, has come in the intricacies of how he designs the running game.
Brian Callahan, offensive coordinator, Bengals
"Knows ball," says one smart offensive coach who knows Callahan well. The Bengals' offensive coordinator is not going to be a camera-hogging, demonstrative presence on the sideline, but Bengals players I've spoken with in the past appreciate his attention to detail and desire to make meetings enjoyable. Bengals head coach Zac Taylor tells me: "Brian has such a deep knowledge of offensive scheme, and he's able to draw on experiences and lessons he's learned from some of the best head coaches and Hall of Fame players. Our guys see that and feel that when he talks to them, and he does a great job of painting a picture that's easy for everyone to understand what our objective is, and they all believe we can get it done because of his ability to present a vision."
Callahan is the son of Browns offensive line coach and longtime NFL and college head coach Bill Callahan. Since Brian arrived in Cincinnati, the Bengals have gone from 30th to sixth in points per game, 30th to seventh in yards per game and 27th to seventh in giveaways on offense.
Press Taylor, offensive coordinator, Jaguars
"Deserves more credit for what's happening in Jacksonville," is the way one coach puts it. Press Taylor, the brother of Bengals head coach Zac, is "detailed, a consistent leader and well organized" as well as a "high-level game-planner." Just 35, Taylor came up in the notorious Philadelphia coaching incubator, starting in quality control in 2013 and working his way up to quarterbacks coach in '20. Taylor was an offensive assistant for the Colts in '21 before rejoining Doug Pederson in Jacksonville for the '22 season, which timed with the Jaguars' immediate resurgence.
Kellen Moore, offensive coordinator, Chargers
Moore has been ripening, and now his candidacy could hit the impossible-to-ignore phase, especially if the Chargers are electric this year. Statistically, the bar has been set high for Moore, a former Cowboys offensive coordinator. Justin Herbert threw for 5,014 and 4,739 yards, respectively, in each of the past two years. With a healthy receiving corps, the Chargers could, and should, be among the best offenses in the NFL (though Mike Williams is already out for the season). Moore has interviewed well in previous stops.
Brian Johnson, offensive coordinator, Eagles
"I like everything about him as a coach and as a player," Kyle Whittingham, the revered head coach at Utah, tells me. "Competitive. Intelligent. Charismatic. Alpha dog mentality. He's a leader of leaders. As soon as I had the opportunity to hire him as an assistant coach, I did so."
Whittingham got Johnson as a player and says that by the first football game of his freshman year, he was qualified to be the starter. "Very rare," Whittingham says, noting that one of Johnson's strengths was transferring that quiet confidence to his players.
Johnson is in his first year as the Eagles' offensive coordinator, replacing current Colts head coach Shane Steichen. Johnson, 36, came up through the college ranks with Utah and spent a handful of years with Dan Mullen at Mississippi State and Florida. Mullen was, for a time, on some NFL radars.
Luke Getsy, offensive coordinator, Bears
A natural play-caller, Getsy could see his name called for some interviews on this carousel if the Bears win football games. Getsy's first season as a primary play-caller and game-plan designer showed an ability to adapt his scheme to the personnel. Getsy came from a true Kyle Shanahan outside-zone system in Green Bay and tailored an offense to get Justin Fields on the move. Should Fields's development continue, so will the interest in the 39-year-old, who, one observer says, always seems to have a different and interesting wrinkle each week for defenses to contend with.
Mike Kafka, offensive coordinator, Giants
"People were ready to call [Daniel] Jones a bust," one observer points out, before noting that Kafka, a former quarterback himself, had a heavy hand in shaping Jones's development and helping him secure a high-end contract extension during his first year as Giants offensive coordinator. It makes the grooming of Patrick Mahomes while Kafka was in Kansas City seem less like an obvious success (though many have globbed onto that take). Personally, I think if circumstances were a little different, Kafka would have already been a head coach. Kafka, 36, was one of Andy Reid's top assistants but was behind Eric Bieniemy in the pecking order. Had Bieniemy gotten a head coaching job sooner, it's likely that the supermarket sweep of Reid's staff would have continued. Given the talent acquisitions made by the Giants this offseason, there are high expectations for a scheme that will allow Kafka the opportunity to show off a little more.
Josh McCown, quarterbacks coach, Panthers
McCown's advantage, according to those familiar with his work, is (and really always has been) his nomadic playing lifestyle. McCown played for Mike Martz, Lane Kiffin, Mike McCoy, John DeFilippo, Doug Pederson, Adam Gase, Frank Reich and so on. The point being: Is there really anything he's going to face as a game-planner that he hasn't been exposed to? McCown came into Carolina with a brand-new offensive staff under Reich, which has allowed him to learn the coaching business from the ground up. The Panthers' staff is also interesting because it was deliberately a hybrid staff. McCown is going to get pieces of the McVay offense as well as Reich's system.
Adam Stenavich, offensive coordinator, Packers
Offensive line coaches are becoming more and more valuable, especially as they become essential to the run game and earn co-coordinator and eventually full-time coordinator positions. Stenavich has done just that in Green Bay, rising to a trusted position under Matt LaFleur. Stenavich called plays throughout the preseason at a time when Jordan Love looked strong and comfortable. The 40-year-old broke into coaching on the strength and conditioning side at his alma mater, Michigan, and broke into the NFL with Kyle Shanahan and the 49ers in 2017 as an assistant offensive line coach.
Eric Bieniemy, assistant head coach and offensive coordinator, Commanders
Despite the brief chatter about Bieniemy's tough coaching style emerging this summer as a quiet-period talking point, Bieniemy remains a head coaching candidate. As I wrote when Bieniemy took the assistant head coach position and offensive coordinator job with Ron Rivera in Washington, it's unfair to base his entire candidacy on his successes or failures in Washington, and it shouldn't diminish his contributions to the Chiefs. All that said, Bieniemy, outside of the Chiefs' hive, has a chance to put together a body of work that even his most ardent skeptics cannot knock. Again, I would urge us to put what he is working with in Washington into its proper context.
Jim Bob Cooter, offensive coordinator, Colts
Cooter was instrumental in Jacksonville's rebuild back in 2022, the culmination of a bit of a second act in his career. Back in '15 he took the reins of a struggling Lions offense and established himself as a rising play-caller in the league, before detouring to stops with the Jets and Eagles in position coaching and consultant roles. The take from one coach who knows Cooter well: Put him on the list. Cooter is smart, organized and a major asset to a staff.
Thomas Brown, offensive coordinator, Panthers
Brown splashed into the big time last year with a head coaching interview in Houston and some other offensive coordinator interviews. I had one person who knows Brown describe him as a potential Mike Tomlin–like candidate, someone who could catch fire after a good interview, despite his youth (37). There are a lot of cooks in the kitchen this year in Carolina, with Josh McCown and Parks Frazier also involved in putting together the offense. Frank Reich, one of the league's great play-callers, called Brown a "natural" play-caller this preseason and ensured Brown got a heavy dose of experience in the run-up to their season opener.
Shane Waldron, offensive coordinator, Seahawks
A big whiff from this list last year, Waldron, who left the Sean McVay enclave in Los Angeles, is coming into his own as a play-caller following the trade of Russell Wilson. "Dark horse" was how one industry insider labeled Waldron, a coach who oversaw Geno Smith's Comeback Player of the Year campaign. The 44-year-old has coached at all levels, for Bill Belichick in New England, McVay in Los Angeles and now Pete Carroll in Seattle.
Todd Monken, offensive coordinator, Ravens
Monken, 57, is a coaching lifer who started his career with Southern Miss back in 1989. He has received NFL head coaching interviews in the past and has helped transform Baltimore's offense into a more multifaceted attack. Monken was last in the pro game from 2016 to '19, when Tampa Bay twice led the NFL in passing yards behind Jameis Winston and Ryan Fitzpatrick. Monken spent the past three seasons at Georgia, helping lead the school to national titles in '21 and '22.
Defensive coaches who are up next
Aaron Glenn, defensive coordinator, Lions
As much as Dan Campbell is an emotional tone-setter in the Lions' building, Glenn, a three-time Pro Bowler cornerback, generates immediate respect. He has interviewed for head coaching jobs each of the past two seasons. While this was not stated to me, one factor to consider for Glenn is his access to really strong offensive coaches: Beyond Ben Johnson, the Lions are thought to be a few talented coaches deep. Glenn has also worked with Kyle Shanahan in Cleveland and Sean Payton in New Orleans.
I asked Bill Parcells, who had Glenn as a coach twice and still keeps in contact with his former player, for his thoughts: "He's very bright, interested. He's serious about his job, very dependable, reliable. He put the work in. He was just one of those people you never have to worry about, whether he's going to prepare himself. I've talked to him after he's gotten into coaching, he spent a lot of time on this. He's very energetic and always looking to learn something. That's the best part about him. He's really a bright young guy."
I asked Parcells whether Glenn's curiosity and drive to learn were uniquely valuable traits when it comes to coaching.
"You have to have that," Parcells said. "None of us have all the answers."
Mike Macdonald, defensive coordinator, Ravens
Macdonald is regarded as a top defensive mind. I've never gotten a satisfying answer as to why John Harbaugh hasn't produced more head coaches during his time with the Ravens. The organization is regularly successful, producing both top offensive and defensive units. Macdonald, 36, worked his way up through Georgia high school football before landing a coaching internship with the Ravens in 2014. He coached at Michigan under Jim Harbaugh for one season back in '21, a year in which the Wolverines made it to the College Football Playoff and beat NFL factory Ohio State at home.
I spoke with Leslie Frazier, the former Vikings head coach and longtime Bills defensive coordinator about Macdonald. Frazier says: "Mike has the ability to disarm and not make anyone feel uncomfortable. He can handle every situation individually. I can see him being able to stand in front of a team because of his ability to relate."
Frazier had a good point about Baltimore: Because of the Ravens' defensive history, being a defensive coordinator there carries serious pressure, perhaps more so than other markets, and gives him a sense of the head coaching responsibility. Macdonald had to follow Wink Martindale, who was a strong, well-liked personality and did not feel the need to conform.
One last nugget: Frazier said when the pair worked together in Baltimore, Macdonald was in charge of suggesting pressures for the team to use on third downs, one of the hallmarks of the chaotic Ravens defense. Through that process, Macdonald exhibited a great knowledge of "offensive intent," meaning that, despite his defensive background, he was well versed in what was happening on the other side of the ball.
Don "Wink" Martindale, defensive coordinator, Giants
Martindale went through a second round of interviews with the Colts last year. The 60-year-old, who was a defensive coach in Baltimore from 2012 to '21, has been the defensive coordinator for the Giants each of the past two seasons and has been coaching at the NFL level since '04. As we noted in last year's piece, Martindale's strength is in his personal touch. My impression is that he wants to customize the experience to the person. Behind the intimidating facade, there is a real teacher, both of coaches and of players. While many different coaches fall victim to one kind of stereotype or another, Martindale is a mold breaker.
Lou Anarumo, defensive coordinator, Bengals
Anarumo has been recognized as one of the best defensive minds in football over the past several years and has been coaching on NFL staffs since breaking into the league in 2012 with the Dolphins. The 57-year-old Staten Island native received a second interview with the Cardinals for the job that ultimately went to Jonathan Gannon.
I asked Zac Taylor about Anarumo's strengths as a communicator and how he relates to his players: "Lou does a great job communicating with all positions on the defense, getting them to buy in and tie everything together as a complete unit. He's created a culture in that defensive room that guys look forward to being a part of and experiencing."
Shane Bowen, defensive coordinator, Titans
Bowen is a top lieutenant to one of the most overperforming coaches in the NFL, Mike Vrabel. The Vrabel "tree," if you want to call it that, is now two strong. Matt LaFleur coached for a year under Vrabel before assuming the Packers' head coach position. Arthur Smith, Vrabel's next offensive coordinator, is primed for a breakout year as head coach in Atlanta.
"Absolutely [Shane will be a great head coach]," says Brian Bohannon, the head coach at Kennesaw State since the program's inception in 2013. "He's highly organized, highly detailed, has really good leadership skills, ability to communicate, delegate. He was always a step ahead of me as a GA. There's a lot of qualities there."
Bohannon's Owls have been a hotbed from which larger programs pluck coaches. He says he would put Bowen in charge of his most detail-oriented projects.
Jerod Mayo, linebackers coach, Patriots
Keep in mind that many legendary coaches have had many heir apparents. I remember covering the Jim Boeheim Syracuse Orange and figuring that any number of people would have succeeded the one-time national champion. But plans change. Minds change. That said, I feel like Mayo is set up to succeed Bill Belichick should the Patriots be interested in an in-house handoff whenever their coach decides to move on (I'm not saying it'll be soon). So, if you're wondering how highly thought of Mayo is, the fact that we shouldn't be laughing off the idea of his taking the wheel from Belichick one day should say it all.
Patrick Graham, defensive coordinator, Raiders
More than any other coach on this list, I think Graham, 44, embodies a bit of an unfortunate series of stops. He got head coaching consideration during his time with Joe Judge's Giants, which should give you a sense of how difficult of a climb into the public eye it was for Graham. The Raiders may not be good, but that doesn't make Graham a bad head-coaching candidate. Here's an interesting thought experiment: How many winning seasons did Kyle Shanahan have as an offensive coordinator before he joined the Falcons in 2016? Two in seven years. Does that make Shanahan a bad coach? Of course not. It makes him a great coach who learned a lot through a few stops with less-than-desirable personnel.
I spoke with Logan Ryan this week, and he shared a great anecdote that sums Graham up well: Most coaches shut down the game-planning process on Friday for a Sunday game. Graham never stops. He approaches players in the lobby of the hotel on Saturday or Sunday morning, drawing up various notes on paper napkins and relaying the messages. Ryan said this is because Graham, by the middle of a season, can teach in a way that turns a defense over to his players completely, allowing him to make seamless last-minute adjustments.
Graham's modus operandi creates an ownership over the defensive unit, and a two-way street of accountability, Ryan says. He offered to come out of retirement and suit up for Graham immediately if he were to become a head coach.
Sean Desai, defensive coordinator, Eagles
Desai, 40, took the Eagles' DC job after Jonathan Gannon went to Arizona. Desai spent 2013 to '21 with the Bears in various roles, working his way up to defensive coordinator. Desai has spent time with two of the most revered defensive coaches of our generation: current Dolphins defensive coordinator Vic Fangio and current Seahawks head coach Pete Carroll.
Jeff Ulbrich, defensive coordinator, Jets
New to the list this year, Ulbrich, 46, is a former NFL linebacker who has been the Jets' defensive coordinator since 2021. He was a longtime defensive assistant to Dan Quinn in Atlanta before transitioning to Florham Park with Robert Saleh in '21. He currently possesses what I consider to be three great strengths going into the carousel this year: ties to Quinn, whose Dallas defense could end up setting some records in '23; a recent playing career, which will be in demand given the success of Dan Campbell in Detroit; and a high recommendation from coaches on the Shanahan tree.
Second-chance head coaches
Dan Quinn, defensive coordinator, Cowboys
Quinn, 52, has interviewed each of the past two offseasons. He remains a safe bet for a team looking for an experienced program manager who can also draw top coordinating talent. "If he wants one" was the refrain I heard on Quinn, meaning, if an opportunity strikes him as the right one, he will have his pick. Quinn could factor heavily in this cycle, especially if there is a wide array of openings. Quinn was 43–42 during his time with the Falcons, making the playoffs twice in four-plus years and reaching the Super Bowl in the 2016 season. As we mentioned last year, Quinn's energy is absolutely infectious. As we begin to appreciate the true genius of Pete Carroll in Seattle, I think we can more easily make room for Quinn as a second-chance candidate.
Raheem Morris, defensive coordinator, Rams
I asked one offensive coach this year about who they thought the defensive coordinator equivalent of the established, smart-guy offensive coordinator is in the NFL: "Honestly," the coach said, "it's Rah." Morris is a big, gregarious personality with a long, experienced résumé, a prior head coaching stop and experience calling both offensive and defensive plays. The Colts liked Morris last year before eventually hiring Shane Steichen. While this was not said, I do imagine that this is a year that can quickly bolster Morris's candidacy further, even though his résumé already stands up well to most other candidates on this list. Sans Jalen Ramsey, L.A. is breaking in a lot of young talent.
Vance Joseph, defensive coordinator, Broncos
"Teacher at heart who helps young guys" is the way one coach who has worked with Joseph puts it. Joseph has had head coaching interest since his brief stint as Broncos head coach from 2017 to '18, and the sense is that it could be time for him to jump back in the cycle. Joseph struggled in Denver with a roster that had very little firepower on the depth chart. Between '17 and '18, the Broncos' quarterbacks were Trevor Siemian, Brock Osweiler, Paxton Lynch and Case Keenum. Still, during that time, Joseph's defense had a top-five year in passing yardage surrendered and total yardage surrendered, and was first in rushing yardage per attempt allowed in '17. Joseph also had a top-10 defense with a suspect roster in '21 as the defensive coordinator of the Cardinals.
Brian Flores, defensive coordinator, Vikings
Flores was a longtime Bill Belichick disciple who helped turn around the Dolphins between 2018 and '21 as head coach. His resistance to what he alleged was a full-on tanking operation should be a check mark in his favor, given how far we've seen some set-up-to-fail teams fall. Flores is in active litigation against the NFL, and his case was able to avoid the league's secretive and difficult-to-navigate arbitration process. Flores was interviewed by the Cardinals for their head coaching vacancy this past winter. Flores's main on-field struggle in Miami was to equip the team with a dependable offensive coordinator. Still, Flores will be a sought-after name, especially once his litigation with the NFL has been adjudicated.
Steve Wilks, defensive coordinator, 49ers
Wilks was a deserving interim head coach of the Panthers following the ouster of Matt Rhule. His prior head coaching stint came in 2018 with the Cardinals. Since that time, a picture of Arizona's very complicated dynamics has emerged, shedding light on a job that may not have yielded success for any coach. Wilks went 6–6 down the stretch in Carolina as the interim in an almost impossible situation, where the team's best offensive player, Christian McCaffrey, was traded away. Wilks beat out some heavy hitters for the DC job in San Francisco.
Matt Nagy, offensive coordinator, Chiefs
Nagy, who was the head coach of the Bears from 2018 to '21, has been back in Kansas City since then, working first as a senior offensive assistant and quarterbacks coach and now as the team's offensive coordinator. To me, including him on this list is a sensible way to hammer home the possibility of there being good coaches in bad situations. Nagy finished his Bears tenure with a 34–31 record. He won 12 games his first season with second-year quarterback Mitch Trubisky under center. Trubisky, who is now a full-time backup in Pittsburgh, had by far his best year with Nagy in Chicago. Nagy was lauded at the time for his creativity as a play-caller. Could he potentially fare better with the experience of having stepped away and back to the coaching think tank in Kansas City?
Bill O'Brien, offensive coordinator, Patriots
O'Brien returned to the NFL after two seasons at Alabama. The 53-year-old was the head coach of the Texans from 2014 to '20, where he posted a 52–48 record, including four first-place finishes in the AFC South. I would think—after seeing how the Browns have struggled to find the best in Deshaun Watson, and given what we know about the Machiavellian tire fire that was the Texans organization during O'Brien's tenure there—that we might come at him with a little more sympathy as a potential second-chance candidate. O'Brien is an adaptable offensive coordinator who has gotten the best out of a lot of quarterbacks. Getting Mac Jones back on track could be a significant jump-starter for another O'Brien bid to be a head coach.
Special teams coordinators
Chris Horton, special teams coordinator, Ravens
It's going to be difficult in any climate for a special teams coordinator to get a job because, as many inside the business have noted, teams are concerned about success resulting in the loss of both offensive and defensive coordinators. An offensive coordinator turned head coach, for example, is (almost) always going to be able to call plays. Same for a defensive coordinator.
My argument against that theory is to look at the Bengals. Both Brian Callahan and Lou Anarumo have remained in Cincinnati due to the ebbs and flows of a coaching cycle years after the Bengals made it to the Super Bowl. Horton's own head coach, John Harbaugh, has had tenured offensive and defensive coordinators throughout his career. One agent who does not rep Horton called him an "amazing human." The 38-year-old has been with the Ravens since 2014.
Bubba Ventrone, special teams coordinator, Browns
Ventrone was the special teams coordinator in Indianapolis from 2018 to '22 and interviewed for the full-time head coaching position with the Colts this past year, following the ouster of both Frank Reich and Jeff Saturday. Ventrone played in the NFL from '05 to '14 and has coached for both Bill Belichick and Reich. Ventrone's unit was one of the 10 best in the NFL, according to the seminal special teams rankings done every year by legendary NFL writer Rick Gosselin. The Colts were the best kickoff return unit in the NFL.
Rich Bisaccia, special teams coordinator, Packers
Bisaccia, along with other special teams coordinators, has a special place in my heart. In 2018, I profiled the Chiefs' Dave Toub, who has had multiple head-coaching interviews. For the piece, I talked to Bill Cowher, who also began his career on special teams. Here's what Cowher said: "When you think about the special teams coach, outside of the head coach, you're the only person on staff who is speaking to the whole team. A lot of what you're doing is more about motivation than it is schematic. And as a head coach, that's what you're trying to do as well."
Bisaccia steered a team in Las Vegas through absolute chaos as interim coach after Jon Gruden's ouster. Last year he was interviewed for the Colts' head coaching vacancy. The 63-year-old came to mind when I was developing this list last year and talking to one former NFL head coach about the state of the league. He wondered: At what point will younger coaches with less game management experience lose enough games to swing the pendulum back to more veteran coaches?
Rising offensive coaches
These are coaches who will factor in for offensive coordinator jobs, passing- and running-game coordinator jobs, assistant head coach opportunities or very new coordinators who will soon be viewed as head coaching candidates. (Listed in alphabetical order.)
Klayton Adams, offensive line coach, Cardinals
Adams, 40, came highly recommended by one offensive NFL coach. He was a walk-on at Boise State before getting into coaching. He broke into the NFL in 2019 as an offensive line assistant on Frank Reich's coaching staff.
Zach Azzanni, wide receivers coach, Jets
Azzanni, who was on last year's list, is widely viewed as one of the best receivers coaches in the NFL. A note we loved from last year's list: Azzanni was retained by three different head coaches in Denver, which is a rarity.
Chris Beatty, wide receivers coach, Chargers
Beatty's current head coach, Brandon Staley, told me: "He's going to be an offensive coordinator in this league soon." Beatty has been a successful coach at every level of football. He called plays at Hampton and coached quarterbacks at Illinois. In Los Angeles, he helped diversify the route trees of the Chargers' tall wide receivers, allowing their offense to expand.
Joe Bleymaier, pass-game coordinator, Chiefs
Bleymaier was Kansas City's wide receivers coach each of the past two years, an integral part of the coaching staff that oversaw a complete transformation of the receiver room after the trade of Tyreek Hill. This season, Bleymaier was promoted to pass-game coordinator. He has risen through the ranks in Kansas City, starting as a quality control coach in 2016.
Joe Brady, quarterbacks coach, Bills
Brady was a fast-rising assistant coach who rose to prominence as the offensive coordinator at LSU during Joe Burrow's incredible senior season. He has interviewed for multiple head-coaching jobs in the past and rounded out his professional experience as Josh Allen's quarterbacks coach in Buffalo.
Marcus Brady, senior offensive assistant, Eagles
Brady, a potential head coach from our list last season, is now a senior offensive assistant with the Eagles. A former CFL standout at quarterback, Brady was the Colts' offensive coordinator before the Jeff Saturday–Frank Reich debacle. He was brought on as a consultant for the Eagles during their Super Bowl run a year ago and remains in Philadelphia now.
Rob Calabrese, quarterbacks coach, Jets
Just 33, Calabrese's coaching career began at the end of his playing career in college. Calabrese was a quality control coach for the Broncos during their 2019 and '20 seasons, eventually joining the Jets during Zach Wilson's rookie season in '21.
Nick Caley, tight ends coach, Rams
A bright young coach from the Bill Belichick tree, Caley, 40, was with the Patriots from 2015 to '22. A move to Los Angeles alongside Sean McVay should yield some offensive coordinator opportunities.
Declan Doyle, tight ends coach, Broncos
Doyle is believed to be one of the youngest, if not the youngest position coach in the NFL, having graduated from college in 2018. Still, his fast rise as a member of the prestigious Sean Payton coaching tree (he spent four seasons in New Orleans, too) should be something to keep in mind as we watch Doyle develop.
Tanner Engstrand, pass-game coordinator, Lions
As a deputy to Ben Johnson, Engstrand, 41, could be on a fast track for a play-calling role in 2024. Engstrand began his coaching career with Jim Harbaugh at the University of San Diego, moving to the coach's Michigan staff in '18 before eventually migrating to the NFL.
Brian Fleury, tight ends coach, 49ers
Possessing one of the most all-encompassing coaching careers we have on this list, Fleury, a former college quarterback, has been involved in all facets of the game, serving as an offensive, defensive and special teams coach at some point in his career. Fleury came to the coaching hotbed in San Francisco as a defensive quality control coach before moving to offense and, eventually, being promoted to tight ends coach. Knowing the intricacies of both the 49ers' passing and running games could provide a huge advantage for a rising coach.
Hank Fraley, offensive line coach, Lions
Fraley, who played 10 years in the league, has expertly guided one of the best offensive lines in the NFL. As the league becomes more conscious about the promotion of offensive line coaches, it's fair to wonder whether his career could begin to mirror that of Adam Stenavich in Green Bay.
Leonard Hankerson, wide receivers coach, 49ers
A potential down-the-line offensive coordinator in San Francisco, Hankerson, a 2011 third-round pick of the Shanahans in Washington, was quickly promoted out of a quality control role in San Francisco and is in his second year coaching some of the best wide receivers in the NFL. As Kyle Shanahan's staff continues to get raided, Hankerson is a name to watch.
Jerrod Johnson, quarterbacks coach, Texans
A dual-sport athlete in college, Johnson made the roster for six NFL teams between 2011 and '18. A Bill Walsh Diversity Coaching Fellowship recipient, Johnson has risen quickly and is now flourishing under the spotlight as C.J. Stroud's quarterbacks coach. So far, Stroud has represented the most marked growth of any rookie quarterback.
Tim Kelly, pass-game coordinator, Titans
Just 37, Kelly was Bill O'Brien's offensive coordinator and quarterbacks coach in Houston before moving to the Titans in 2022. He broke into the NFL back in '14 as a quality control coach.
Mike LaFleur, offensive coordinator, Rams
LaFleur, 36, is in his first season as offensive coordinator of the Rams after spending the 2021 and '22 seasons as the OC of the Jets. Being in his current system and with a steadier hand at quarterback should allow LaFleur to show his grip on the role.
Thad Lewis, quarterbacks coach, Buccaneers
Another fast riser, Lewis, a former NFL quarterback, broke into coaching as an offensive analyst for Chip Kelly at UCLA in 2018. After just two seasons as the Buccaneers' assistant wide receivers coach, he became the position coach for the surprising Baker Mayfield resurgence in '23. As the NFL quarterback-to-coach pipeline gets shorter and shorter, Lewis and Jerrod Johnson both merit a close watch.
Charles London, pass-game coordinator and quarterbacks coach, Titans
London is in a noteworthy spot this year as a position coach in Tennessee for two developing young passers in Malik Willis and Will Levis, third- and second-round picks, respectively. The 48-year-old was a running backs coach for Bill O'Brien at Penn State and in Houston. He transitioned to the quarterback room in Atlanta in 2021.
Tom Manning, tight ends coach, Colts
Manning was Brock Purdy's offensive coordinator at Iowa State. The 40-year-old had a previous stint as the Colts' tight end coach back in 2018 before returning this season.
Stump Mitchell, running backs coach, Browns
Following a head coaching stint at Southern University, Mitchell, 64, returned to the NFL as a running backs coach with the Cardinals, Jets and Browns. Mitchell played a key role in developing Nick Chubb in Cleveland and will have a chance to show the depth of his coaching expertise with backup Jerome Ford.
Scottie Montgomery, assistant head coach and running backs coach, Lions
Montgomery has been in most positions of power offensively at both the college and NFL levels and has high-level college-head-coaching experience at East Carolina. Montgomery will be under the spotlight this season with first-round pick Jahmyr Gibbs.
Jeff Nixon, running backs coach, Giants
Nixon has been coaching since 1997, having broken into the NFL with the Eagles in 2007 as an offensive and special teams assistant. Known as a true technician, his understanding of the big picture offensively has made him a sought-after running backs coach, and he was Brian Daboll's choice to coach Saquon Barkley in '23.
Justin Outten, run-game coordinator, Titans
A former college center at Syracuse, Outten broke into the NFL in 2016 as a coaching intern for the Falcons. He has since climbed the Shanahan ladder, with stops as Matt LaFleur's tight ends coach in Green Bay and Nathaniel Hackett's offensive coordinator in Denver.
Jake Peetz, pass-game specialist, Rams
A member of the secondary as a player at Nebraska, Peetz started his coaching career on the defensive side of the ball before moving to an offensive track in Jacksonville back in 2012. Twice hired by Nick Saban at Alabama, Peetz has held a high-level play-calling gig at LSU in '21 and was in the conversation for offensive coordinator jobs at the NCAA level this past cycle. An NFL play-calling role would seem to be a logical next step.
Drew Petzing, offensive coordinator, Cardinals
Petzing, who, interestingly enough, coached at both Harvard and Yale at the beginning of his coaching career, has put the NFL on notice with an offense that is putting up serious points with quarterback Joshua Dobbs in Arizona. This was not a roster expected to yield much offensive success, but the Cardinals are far outperforming their roster at this point, which makes Petzing, a longtime sidekick of Browns head coach Kevin Stefanski, a name to watch.
Dan Pitcher, quarterbacks coach, Bengals
Pitcher, who is Joe Burrow's quarterbacks coach, came into the NFL in 2016 as an offensive assistant for the Bengals. His big break into the league, though, came on the scouting side as an assistant and pro scout with the Colts between '12 and '16. Pitcher could be on a fast track, especially if Brian Callahan secures a head coaching job following this season.
Dave Ragone, offensive coordinator, Falcons
One of the leading passers in Louisville history, Ragone was an NFL quarterback between 2003 and '07. The former third-round pick was a quarterbacks coach in Chicago before finding his way to Atlanta, where he now coordinates one of the most-watched offenses in the league.
Zac Robinson, quarterbacks coach, Rams
A college quarterback at Oklahoma State, Robinson began his coaching career in the NFL as a Sean McVay assistant in 2019. He has since risen to the quarterback coaching role and is part of a group of talented young offensive assistants in L.A. who will undoubtedly branch off into bigger roles.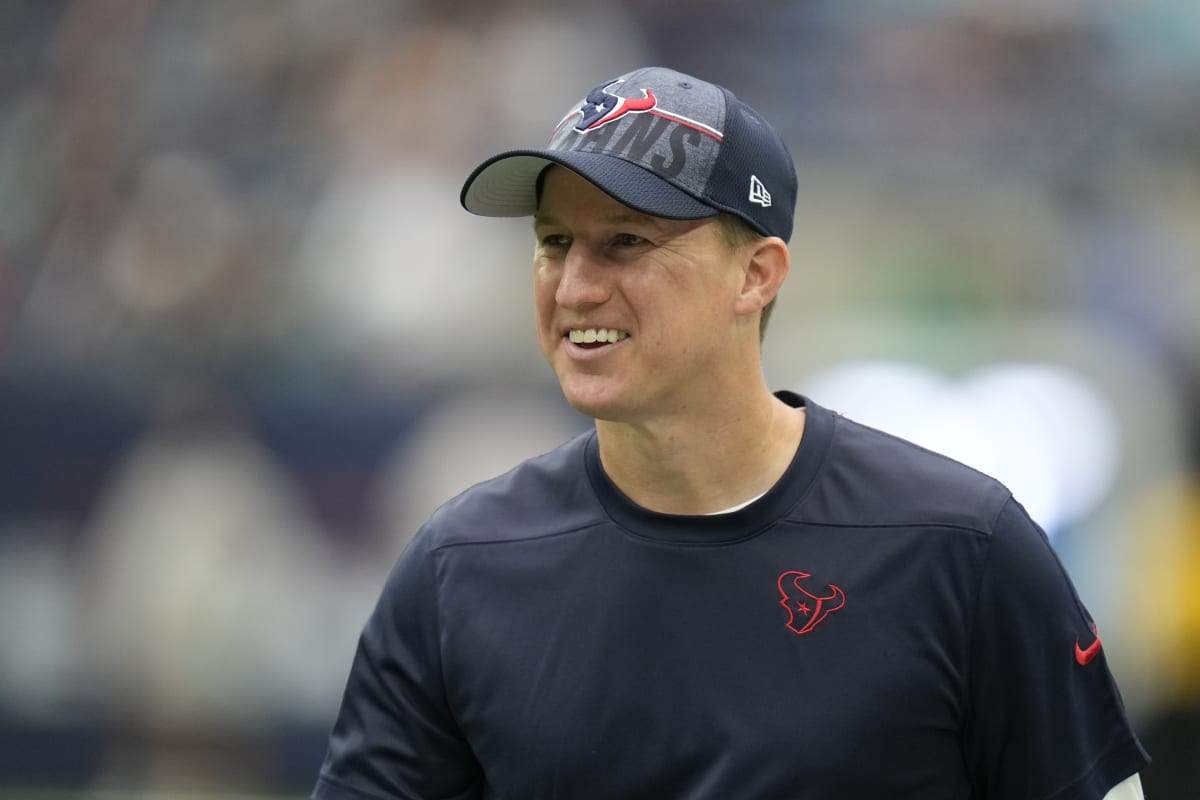 Bobby Slowik, offensive coordinator, Texans
Slowik was a part of the historic Washington coaching staff of the early 2010s that ended up yielding a revolution in the business. Though he was on the defensive side of the ball, Slowik eventually made his way to offense as an assistant, pass-game specialist and coordinator. Now in Houston, he has been calling the surprisingly high-scoring Texans' offense.
Duce Staley, assistant head coach and running backs coach, Panthers
There is a lot of institutional knowledge here with Staley, a 48-year-old former NFL running back who has been a high-level assistant head coach for Doug Pederson, Dan Campbell and now Frank Reich in Carolina.
Drew Terrell, pass-game coordinator, Cardinals
A standout wide receiver at Stanford, Terrell was a part of Jim Harbaugh's staff at Michigan before making stops with Carolina and Washington under Ron Rivera. He added the pass-game coordinator tag to his résumé in 2023.
Shea Tierney, quarterbacks coach, Giants
Tierney came into the NFL as a coaching intern with Chip Kelly and the Eagles before making stops with Nick Saban at Alabama and Brian Daboll in Buffalo. Tierney was Daboll's selection for the all-important quarterbacks coaching spot and has helped resurrect the career of Daniel Jones in New York.
Cam Turner, quarterbacks coach, Colts
Turner has been coaching at the NFL level since 2015. Last year, he finished a four-year run with Kliff Kingsbury in Arizona, where he rose to co-passing-game coordinator and quarterbacks coach. A short-list name for other coaches in this past cycle, Turner is now in a good place, working with Anthony Richardson on Shane Steichen's coaching staff.
Scott Turner, pass-game coordinator, Raiders
Turner, 41, is the son of longtime NFL coach Norv Turner. He was the offensive coordinator of the Commanders from 2020 to '22 and quarterbacks coach for the Panthers before that. His career as a play-caller to date has included stints with Kyle Allen, Alex Smith and Taylor Heinicke as his quarterbacks.
Davis Webb, quarterbacks coach, Broncos
The 28-year-old transitioned directly from being an NFL player into the hip pocket of Sean Payton, one of the most revered quarterback coaches in the NFL. Webb, a 2017 third-round pick out of Cal (he also played three years for Kliff Kingsbury at Texas Tech), could be a name to watch due to the relatively fast rise of other player-to-coach transitions we've seen of late, such as Josh McCown and Kevin O'Connell.
Spencer Whipple, pass-game coordinator, Cardinals
Whipple, who shared pass-game responsibilities with Cam Turner in Arizona last year, remained in Arizona with Drew Petzing. The son of Mark Whipple, a longtime NFL and college coordinator and position coach, Whipple is entering his fifth NFL season.
Rising defensive coaches
These are coaches who will factor in for defensive coordinator jobs, assistant head coach opportunities, or very new coordinators who will soon be viewed as head coaching candidates. (Listed in alphabetical order.)
Derrick Ansley, defensive coordinator, Chargers
One of the best defensive players in Troy University history, Ansley, 41, became the Chargers' defensive coordinator before the start of the 2023 season. He did his graduate assistantship under Nick Saban at Alabama and returned to the Crimson Tide a few years later to become the team's defensive backs coach.
Bobby Babich, linebackers coach, Bills
Last week, Bills linebacker Matt Milano said of Babich: "[He's the] best coach in the NFL." A hidden gem on Sean McDermott's crack defensive staff, Babich was also the safeties coach from 2018 to '21, when Jordan Poyer and Micah Hyde were the best safety tandem in the NFL.
James Bettcher, linebackers coach, Bengals
Bettcher was a head coaching candidate just a few years back and was widely viewed as one of the stronger defensive coordinators in the NFL while working under Bruce Arians. While that doesn't change, circumstances do. Bettcher served as a DC for the Joe Judge Giants before making his way to San Francisco as a defensive assistant and, finally, Cincinnati as a linebackers coach. Should Lou Anarumo finally get a long-deserved crack at running his own team, Bettcher would be an obvious successor.
Jonathan Cooley, secondary and defensive backs coach, Panthers
Cooley, a graduate of the NFL factory at John Carroll University, coached for the Blue Streaks before venturing to stops in Akron, Kent State and Tennessee-Chattanooga. He was a Bill Walsh Diversity Coaching Fellowship recipient who landed with Ejiro Evero in Los Angeles and has since followed the highly regarded defensive coordinator to Carolina.
Ryan Crow, outside linebackers coach, Titans
Crow, a former college walk-on turned scholarship player, broke into the NFL in 2018 with Mike Vrabel's staff after spending a year at Vrabel's alma mater, Ohio State, as a graduate assistant. Before getting to Ohio State, Crow coached in multiple college locations, gaining valuable experience in the strength and conditioning space as well as coaching offensive line and coordinating an offense at Baldwin Wallace University.
Brian Duker, defensive backs coach, Lions
Duker has been a fast riser in Detroit, moving from the safeties room to a bigger-picture responsibility with the entire secondary. The Lions have stabilized in that time and are currently 12th in net yards per attempt against, this despite games against the Chiefs, Seahawks and Falcons.
D.J. Eliot, linebackers coach, Eagles
Eliot joined the Eagles after a long stint in the collegiate ranks as a defensive coordinator at Kansas, Temple, Colorado and Kentucky. The 41-year-old had a struggling Owls team averaging more than three sacks per game in 2022, finishing top 10 in the country in the metric.
Larry Foote, co-defensive coordinator, Buccaneers
Foote has been a mainstay on our list for some time, and I think it's a matter of right circumstance before he eventually springboards into the big time. As the player-to-coach pathway crystallizes with the likes of DeMeco Ryans and Dan Campbell, Foote, a two-time Super Bowl champion, will possess the necessary clout.
DeAngelo Hall, assistant defensive backs coach, Panthers
Do you want a name that could pop with the "Deion Sanders effect" in full swing? How about Hall, a three-time Pro Bowler and one of the greatest players in Commanders history. Hall is said to be attacking his first coaching role with a fury in Carolina. The path for players to the bigger seats are shorter than ever.
Peter Hansen, linebackers coach, Panthers
Hansen, the son of a football coach, broke into the NFL as a quality control coach on a loaded Vic Fangio staff in San Francisco. After a long stint as a collegiate coach with David Shaw and the Cardinal at Stanford, he was hired by Ejiro Evero in Denver last year and followed Evero to the Panthers in 2023.
Chris Harris, defensive pass-game coordinator, Titans
A former NFL player who earned second-team All-Pro honors as a Bears safety in 2010, Harris has been a sought-after defensive coach for some time. The 41-year-old spent the past three years with Ron Rivera in Washington, the last year of which the Commanders were lights out against the pass (fourth in total yards allowed and 10th in yards per attempt allowed).
Jeff Howard, linebackers coach, Chargers
Fun fact: Howard was a former defensive coordinator at Permian High School, which was the subject of the seminal football book Friday Night Lights (he also taught chemistry). Howard, also an Eastern New Mexico athletics hall of famer, was brought into Los Angeles for a critical season in which Brandon Staley needs to improve his linebacking core and situational defense.
Joe Kasper, safeties coach, Dolphins
Kasper broke into the NFL in player personnel and development before stops at John Carroll, Duke and with the Eagles. His experience with Vic Fangio in 2023, coupled with a diverse background as an assistant coach on both sides of the ball and a background in sports performance and mental health, make him a coach to watch.
Robert Livingston, secondary and safeties coach, Bengals
Having moved up from the Bengals' small but revered scouting staff, Livingston has been coaching the defensive backs and safeties in Cincinnati for nine years now. The Bengals' versatile, ball-hawking secondary has been a hallmark of the Lou Anarumo scheme.
Tem Lukabu, outside linebackers coach, Panthers
Born in the Democratic Republic of the Congo, Lukabu was a dominant college football player at Colgate before compiling an impressive coaching résumé with stops at Rutgers under Greg Schiano, and the inaugural year of Kyle Shanahan's head coaching tenure in San Francisco (Lukabu worked as a quality control assistant under Robert Saleh). For the past three seasons, Lukabu was the defensive coordinator at Boston College, where he oversaw one of the best scoring defenses in the country.
Ryan Nielsen, defensive coordinator, Falcons
I think in less than five years, we'll be talking about Nielsen as a head coach in the NFL. The first-year defensive coordinator has already brought some juice to the Falcons and, tracking his résumé back to New Orleans with Dennis Allen, it's clear the Saints had to make a great effort to keep him in New Orleans as long as they did.
Zach Orr, linebackers coach, Ravens
Orr, a former NFL linebacker, is a 31-year-old assistant coach who started his career after his playing days ended in Baltimore. His three-year playing career was cut short due to neck and spinal issues. Orr also spent a year in Jacksonville as the outside linebackers coach in 2021. He bears no relation to the author.
Christian Parker, defensive backs coach, Broncos
Parker, 31, was plucked from Green Bay by Ejiro Evero in 2021 to be a part of an extremely underrated Broncos defense in '22. He remained on the staff when Sean Payton took over in '23.
Aubrey Pleasant, pass-game coordinator, Rams
Pleasant was actually an offensive assistant for Washington in 2013, where Mike McDaniel, Matt LaFleur and Kyle Shanahan were all working at the time. Switching back to the defensive side of the ball, he's had multiple stops with the Rams, where he worked under Wade Phillips and Brandon Staley.
Nick Rallis, defensive coordinator, Cardinals
The youngest coordinator in the NFL (30), Rallis left Philadelphia to join Jonathan Gannon and the Cardinals. Through Week 3, Arizona was tied for seventh in the NFL with three interceptions. Rallis was the linebackers coach for the Eagles during their Super Bowl run in 2022 and began his NFL career as a quality control defensive coach for Mike Zimmer in Minnesota.
Mike Rutenberg, linebackers coach, Jets
A passing-game specialist for Robert Saleh during the coach's final year in San Francisco, Rutenberg has been the Jets' linebackers coach for each of the past three seasons, guiding a career resurgence for C.J. Mosley, who earned second-team All-Pro honors and a Pro Bowl berth this past year. Rutenberg also got some coordinating experience as part of the Senior Bowl staff in 2022.
Karl Scott, secondary coach and defensive pass-game coordinator, Seahawks
Scott, 38, has a strong background in the secondary with coaching stops in Alabama under Nick Saban and with the Vikings under Mike Zimmer. His arrival in Seattle last year coincided with the resurgence of Pete Carroll's secondary. Seattle was top 15 in most major defensive passing categories.
Anthony Weaver, associate head coach and defensive line coach, Ravens
"Anthony Weaver, you're not going to find a better leader. He's going to be a head coach very soon." That was John Harbaugh himself at a press conference not long ago. Weaver was given a game ball this season after the Ravens beat the Texans. Watch the team react to that.
Drew Wilkins, outside linebackers coach, Giants
Wilkins has spent more than a decade with Wink Martindale, the defensive coordinator of the Giants and a top coaching candidate in his own right. Wilkins has been tasked with working alongside 2022 No. 5 pick Kayvon Thibodeaux.