The NFL is turning to October.
Once Thursday Night Football is behind us, Week 4 brings us into the season's second month, when the best teams start to separate from the middling and mediocre.
Unquestionably, the best game of the week will take place in Orchard Park, N.Y., where the Bills host the Dolphins in an AFC East battle. If Buffalo wins, it takes over first place. If Miami wins, the Dolphins are two games up on the Bills with a victory over them in their building.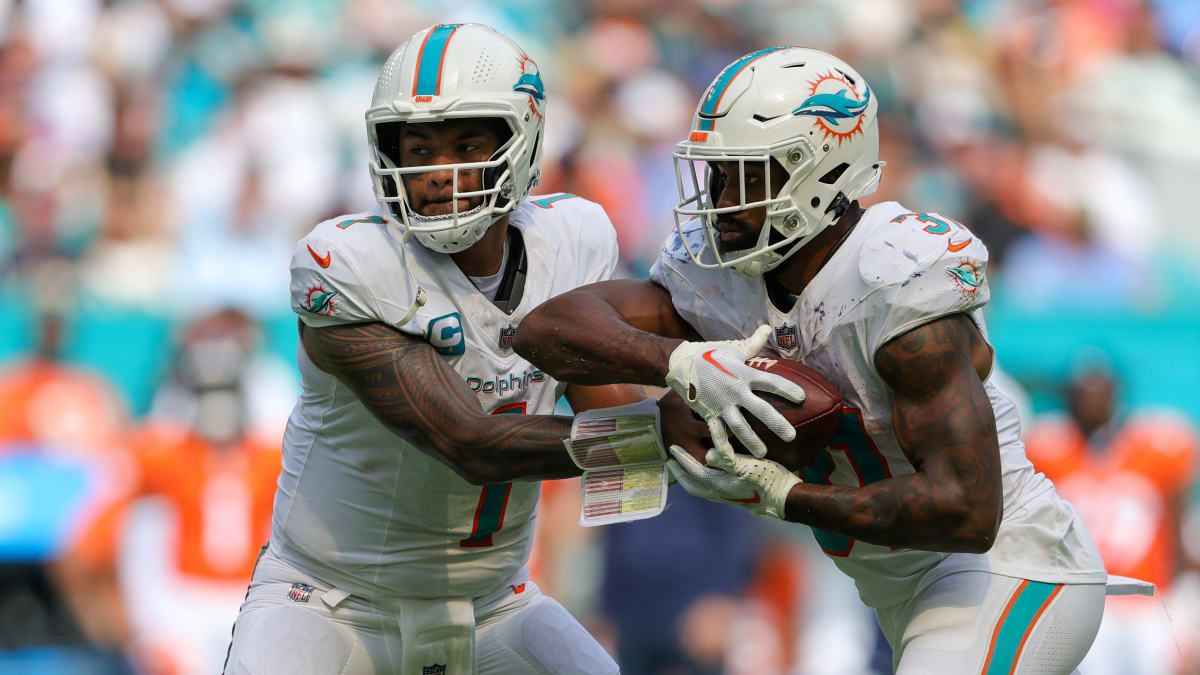 So who wins that game and all the others in Week 4? Let's look at the most important matchups on the docket.
Atlanta Falcons (2–1) at Jacksonville Jaguars (1–2)
Key matchup: Kyle Pitts and Drake London against the Jaguars' secondary.
The Falcons don't force the ball down the field with second-year quarterback Desmond Ridder. Against the Jaguars, that might be a good thing.
Jacksonville ranks dead last in yards after the catch permitted (454), giving Pitts and London an opportunity to catch the ball in space and make big gains. The Jaguars have to rally and tackle in this international game in London.
---
Miami Dolphins (3–0) at Buffalo Bills (2–1)
Key matchup: The Bills' run defense against the Dolphins' ground game.
Tua Tagovailoa is an MVP favorite, and Tyreek Hill is off to another All-Pro season. But did you know the Dolphins lead the league averaging 6.1 yards per carry?
And, did you know the Bills surrender a league-worst 5.9 yards per rush? If Buffalo can't stop Raheem Mostert and rookie De'Von Achane, nothing else will matter.
---
Denver Broncos (0–3) at Chicago Bears (0–3)
Key matchup: Russell Wilson against the Bears' lacking pass rush.
The Bears have been nonexistent with their pocket push, ranking last in blitz rate (13.8) and 30th in pressure rate (16.7%).
However, the Broncos are surrendering the fifth-worst pressure rate (29.7%), while Wilson has been blitzed only 29 times, ranking 20th in the league. Can Wilson slice up a bad front four?
---
Baltimore Ravens (2–1) at Cleveland Browns (2–1)
Key matchup: The Ravens' rush offense against the Browns' rush defense.
Baltimore has struggled offensively and now faces a defense that yielded 94 yards to the Titans last week. Cleveland ranks second in yards per carry allowed (2.8), rushing yards per game against (52.0) and first in expected points contributed by rushing defense (17.28).
For the Ravens, who rank tied for third in rushing attempts with Cleveland (106), getting into manageable second and third downs means bullying the Browns up front.
---
Cincinnati Bengals (1–2) at Tennessee Titans (1–2)
Key matchup: Derrick Henry against the Bengals' run defense.
The Titans haven't done much through the air this season, ranking 19th in yards per attempt (6.6). If Tennessee is going to surprise Cincinnati on Sunday, it will start with Henry.
The Bengals have allowed 5.1 yards per carry through three weeks, ranking 28th. Henry will get carries if the game is close, but can he get enough to get the Titans to 2–2?
---
Los Angeles Rams (1–2) at Indianapolis Colts (2–1)
Key matchup: The Rams' offensive line against the Colts' tough interior.
Indianapolis has been a surprise largely because of its defense creating negative plays, including 23 tackles for loss.
Meanwhile, the Rams had a rough time dealing with Cincinnati's rugged front last week, allowing six sacks and seven tackles for loss.
---
Tampa Bay Buccaneers (2–1) at New Orleans Saints (2–1)
Key matchup: The Buccaneers' run game against the Saints' front on first down.
Tampa Bay loves to run the ball on early downs under new coordinator Dave Canales, and it's not gone well. The Buccaneers are tied for last at 2.8 yards per carry. However, the Saints' defense is tied for 22nd, allowing 4.5 yards per rush.
If the Buccaneers can run well on first down, they can pull the upset.
---
Washington Commanders (2–1) at Philadelphia Eagles (3–0)
Key matchup: Sam Howell against the Eagles' front four.
Howell has been sacked a league-leading 19 times, six more than any other quarterback in the NFL.
Philadelphia has only six sacks but ranks tied for second in pressure rate (30.3%) with T.J. Watt and the Steelers. Howell better get the ball out of his hand. Fast.
---
Minnesota Vikings (0–3) at Carolina Panthers (0–3)
Key matchup: Bryce Young vs. the Vikings' blitz.
Young has not seen much in the way of added pressure. The Panthers' rookie has been blitzed only 11 times, the fewest of any quarterback with two or more starts this year. Meanwhile, the Vikings are blitzing at an absurd 63% clip. How Young does against pressure will determine the outcome of this game.
---
Pittsburgh Steelers (2–1) at Houston Texans (1–2)
Key matchup: Pittsburgh's offensive line against the Texans' front four.
Houston doesn't pressure much, ranking 23rd in blitz percentage (23.6). Going against the Steelers, they should be able to get home with four. Pittsburgh quarterback Kenny Pickett has been pressured on 36% of his drop-backs, the most of any quarterback in the NFL.
---
Las Vegas Raiders (1–2) at Los Angeles Chargers (1–2)
Key matchup: Davante Adams against the Chargers' secondary.
If the Raiders are going to pull the upset, it starts with Adams going off as he did in Week 3 (13 receptions, 172 yards, two TDs). Last season, Las Vegas split with Los Angeles, with Adams accounting for 18 receptions for 318 yards and three scores.
This season, the Chargers have allowed 705 air yards, most in the NFL. Raiders quarterback Jimmy Garoppolo needs to look for Adams deep down the field.
---
New England Patriots (1–2) at Dallas Cowboys (2–1)
Key matchup: The Cowboys' third-down offense against Bill Belichick's defense.
Dallas is coming off an awful loss to the Cardinals, but there are ample positives to be excited about. One of them is the Cowboys' third-down offense, which ranks second in the NFL with a conversion rate of 51.1%.
That said, it'll be a challenge Sunday against Belichick's defense. The Patriots are No. 3 in third-down defense, limiting conversions to 27%.
---
Arizona Cardinals (1–2) at San Francisco 49ers (3–0)
Key matchup: The Cardinals' rushing attack against the Niners' nasty front.
On paper, Arizona trying to run against a defensive line that includes Nick Bosa and Javon Hargrave seems like a bad idea. And while the 49ers are tied for 10th in yards allowed per carry against at 3.7, it's still the right move.
The Cardinals have to shorten the game and can do so with an offense ranking second at 5.6 yards per carry. Arizona has utilized the agility of running back James Conner and elusiveness of quarterback Joshua Dobbs well, and must continue to do so to have any chance in this game.
---
Kansas City Chiefs (2–1) at New York Jets (1–2)
Key matchup: The Jets' third-down offense against Kansas City's third-down defense.
The Jets won't get many explosive plays against the Chiefs, who rank fourth in points per game allowed. For New York to move the ball, it desperately needs to improve on its third-down execution of 21.6% of attempts.
Conversely, Kansas City is fifth in third-down defense, preventing first downs at a rate of 30.8% of attempts.
---
Seattle Seahawks (2–1) at New York Giants (1–2)
Key matchup: The Giants' red zone offense against Seattle's defense.
New York's offense has been abysmal save for the second half in Arizona, but it does rank 10th in red zone percentage at 62.5%.
Meanwhile, the Seahawks are the only team in football not to get a single stop in the red zone, allowing touchdowns on all seven trips by the opponent.