Kyrie Irving is headed to Texas. The Mavericks acquired the All-Star guard from the Nets on Sunday, according to multiple reports. Irving requested a trade Friday after failing to secure an extension with Brooklyn. The Nets will acquire Spencer Dinwiddie, Dorian Finney-Smith, a 2029 first-round pick, and multiple second-round picks in the deal. Dinwiddie played for the Nets from 2016-21, before he was traded to Washington. Markieff Morris will also head to Dalas. Let's grade this deal for both sides.
Mavericks: C
I don't know about this one. Is Irving really the player you want to pair with Luka Dončić at this stage of the young star's career? The on-court fit is less than ideal. Both need the ball to be effective. Irving lessens Dončić's burden, though the Mavs probably will still be an iso, switch-hunting heavy team. A Luka-Kyrie backcourt will also be an adventure defensively. And on top of that, Dallas is giving up its burliest wing defender in Finney-Smith. I understand the pressure to put another star next to Dončić. But does this really make the Mavericks a contender?
And what about Irving's extension? Have the Mavs agreed to sign him long term as part of this trade? Irving is 30, and tying up some of Dončić's most important years with the most unreliable player in the NBA is a major risk. It's a healthy gamble to take on a player in Irving whose trade value will likely only diminish moving forward. Dallas isn't necessarily tied at the hip to Irving, but the path to finding a new running mate has become much more difficult if it comes to that. And with Irving, it always seems to come to an acrimonious end. If the Mavs don't re-sign Irving, then they've given away some competent players for a rental that may not even get them as far as they did in last year's playoffs.
Ultimately, when you consider all the ancillary concerns that come with Irving, I'm not sure this is a home run move. If the Mavs can convince Irving to take a shorter deal in the summer, then maybe it starts to make a bit more sense. For now, I'm not convinced this puts Dallas over the top in a meaningful way.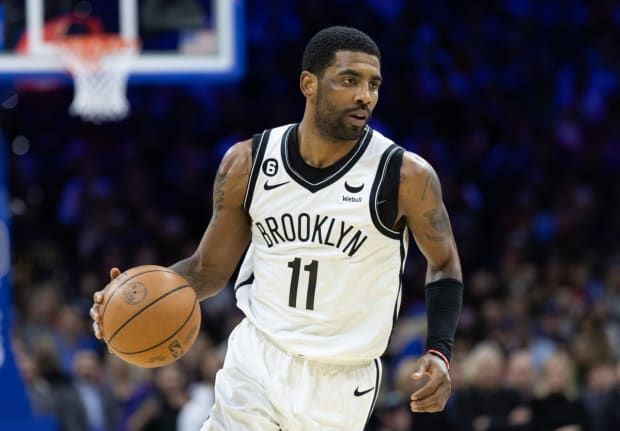 Nets: B+
Very good haul for Brooklyn given that Irving dropped this trade bombshell on them so close to the deadline. It's hard to say how intense the bidding war got for Irving because of how dicey his contract situation is. Dinwiddie is a very solid player who has looked good playing off Dončić in Dallas. His three-point shooting has vastly improved, and he makes sense next to Durant. Finney-Smith is an upgrade over Ben Simmons and gives Brooklyn a very good 3-and-D wing to add to the rotation. A Dinwiddie-DFS-Royce O'Neale-Kevin Durant-Nic Claxton lineup is actually pretty intriguing, especially if KD returns to his MVP-caliber form when he comes back from his knee injury. (And don't sleep on that first-round pick. The Nets need draft capital after the James Harden trade.)
The real question here is if the return is enough for Durant. He obviously wanted out before the season. Does he think we can win with this group? I don't think the Nets are out of contention without Irving. And they still have time to tinker with the roster. If KD stays, Brooklyn is still in a position to compete at a high level. That's certainly a big if with everything that's happened over the last for years. For now, I'm not expecting a big drop off for the Nets, particularly once Durant is back in the lineup.